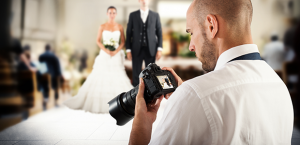 How do you want to have your day recorded and who is allowed to do that? Choices, choices, and choices … When you get married you come to a huge amount of choices to stand; the guest list, choosing the clothes, the locations, music, and dinner or catering … But one of the choices that are a real must for your wedding is choosing a professional wedding photographer. Visit Golden Venues to find out best wedding photographers to capture your wedding day.
If you opt for a professional photographer, you will find a huge selection of photographers on the internet. From all regions, photographers offer themselves and their services and all have their own style! We have already put together the best wedding photographers from Charlotte NC for you! Which photographer do you go for and what is the style of photography that suits you?
1. Which photographer suits you?
Before you make a choice anyway, you have to think about what kind of photographer suits you. For that you first look at the style of the photographer. There are three types of wedding photography styles: traditional wedding photography, journalistic wedding photography and editorial wedding photography.
Traditional wedding photography means that the photographer will give as many instructions as possible to make the perfect wedding photos for you. This is where the classic posed wedding photos come from. This often also involves a lot of time for a photo shoot at a beautiful/special location.
Journalistic wedding photographers capture all moments as they are. They will stay in the background on the day itself and the photos they make are absolutely not posed. A wedding photographer who works journalism will never interrupt your day because the moment is not well enough.
Editorial wedding photographers have great attention to detail. Think of many photos of flowers and the location. You will find many photos of still lifes and portraits in the portfolios and less of the whole story of the wedding day.
2. Request quotations
If you have found a number of photographers that you find interesting, the next step is to approach them for a (no obligation) quotation, so that you know what the photographer offers for what budget. Answers that you would like to find on the quotation are: how long will the photographer take pictures, how about travel costs and time, how many photos do you get, how long do you have to wait for your photos and how are the photos delivered? What you can think about yourself is whether you want the photographer to be present all day or that you only allow him/her to be present at the most important moments of the day.
3. Meeting with the photographer
Many couples will want a meeting with the photographer before the big day. Even when choosing a photographer, communication is a very important element. During this meeting, together with the photographer, you can once again view the portfolio and discuss what your wishes are and whether he/she is the one who can realize this.
4. Do you choose a pre-wedding shoot?
What is offered by some photographers is a pre-wedding shoot. This is a portrait photo session of you and your upcoming, who on the one hand provides you with a nice series of photos and on the other hand offers you the chance to get acquainted and to get used to the (working method) of the photographer. This is also very nice, for example, if you want to place a photo on your wedding card, then you have photos in the same style as the final wedding photos!
5. The final steps for the wedding
In the run-up to the big day, it is good to make clear agreements with the wedding photographer. What time and where is he/she expected, how long does he/she stay, what are the exact addresses of the locations where you go that day and what do you expect from the photos? At what point in the program of the day is it appropriate to make reportage photos (and how relaxed or 'neat' do you want that?) It is often nice to consult with a photographer in time. Not everyone has the same working method and together you can determine how the photo moments can be included in the day program as pleasantly as possible.If you know where you stand on the day, you can enjoy the photo session (s) as relaxed as possible, and later on the photos!
Read these steps a few more times when you have made a list of photographers that you find most interesting. Remember that choosing a photographer and the contact with the person is of great importance, so pay all necessary attention!

---
Company Details

Service Type
Provider Name
Golden Venues
,
13850-A Ballantyne Corporate PL Suite 500
,
Charlotte
,
NC
-
28277
,
Telephone No.(704) 761-7742
Area Served
About
Golden Venues is one of the best event planner in Charlotte NC that has gained enough experience in successfully organizing over 5000 weddings, parties, and events.