The holiest bonding and relationship in the entire universe is of husband and wife. A wedding is not just a ceremony rather it is an engagement of two souls that have decided to get bonded for rest of their entire life. No doubt that there is nothing more special than a wedding ceremony and what makes it more special is the way of celebration and arrangement. Though we might have seen lots of wedding in our life but once in the early 80s, there was a type of mass wedding that got so much attraction that it made producers to make a documentary on it.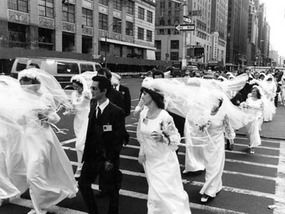 What was the event?
You might be knowing that Unification Church every year sponsors a mass wedding blessing ceremony. On July 1, 1982, it was time for New York to host this event but this time the event turned into the most bizarre service. The event was conducted by Rev Sun Myung Moon at Madison Square Garden and it was first time that 2000 couples, who never met each other before this event, participated in this mass wedding. These couples were gathered to attend the event from 48 different countries.
My Big Fat Moonie Wedding Documentary
The event was such a hot topic for many years that it attracted Doubleband Films, a company of Ulster producer Brain Henry, to make a documentary on it entitled My Big Fat Moonie Wedding. The documentary focuses on this whole big event along with shedding some light on what happened to some European and American men and women who participated in this mass wedding event. The documentary was aired on a British TV network, Channel 4 in the year 2007 and also was published in a daily journal, The London Paper in the same year.